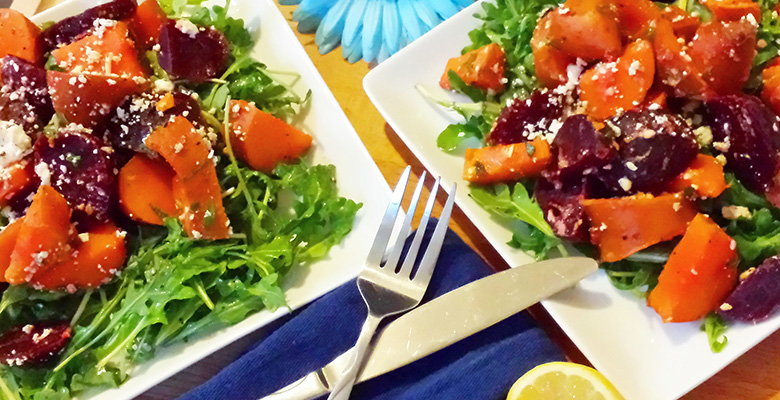 Grounding Beet and Sweet Potato Salad 
This is an awesome salad that can be served up right away, or it can marinate longer and be enjoyed as a nourishing and energizing Fall Salad.
The ingredients in this dish are incredibly healing and provide a rainbow of nutrients in every bite. I call it a 'Grounding' Salad because Sweet Potatoes and Beets, being that they grow underground, have wonderful properties that can help us feel more stable and connected to the Earth. These foods are important to consume in times when you feel stressed or disconnected. Because they help ground me so much, I thought that this would be the perfect dish for the Full Moon in earthy Taurus!  I hope this grounds and strengthens  you too 🙂
Serves 2 People for a meal- or 4 small side dishes
What you will need: 
4 small Steamed Beets
2 Sweet Potatoes
1 Bunch/Bag of Arugula 
1/4 cup Thinly diced Purple Onion 
1 Lemon
1/4 Cup Olive Oil 
Tbs. Balsamic 
1 tsp. Raw Honey
1 tsp. Sea Salt
Black Pepper to taste 
Wash and chop the Sweet Potatoes and place in boiling water for about 8-10 minutes (you will want them to be softened but not falling apart)
While the potatoes are boiling, slice the steamed Beets and Red Onion.
In a small bowl, whisk together the Olive Oil, Balsamic, Lemon, Honey and Salt & Pepper.
Drizzle this mixture over the Beets and Red Onion and place in fridge.
Strain the Sweet Potatoes and sprinkle them with Sea Salt & Black Pepper and let them cool.
In a Large Salad Bowl toss the Arugula with a light coating of dressing.
Now you're ready to plate 🙂
Place dressed arugula on a plate along with the quick-marinated Beets and top with the Sweet Potatoes.
You can also add fresh herbs like Parsley or Oregano. Or even top with a Feta Cheese or Raw Vegan Cheese of your choosing.
Enjoy!